Profile
Free Account
Created on 2011-12-29 19:06:40 (#1320127), last updated 2017-04-15 (23 weeks ago)
6,656 comments received, 0 comments posted
4,074 Journal Entries, 83 Tags, 0 Memories, 1 Icon

About

Mini Bio
pseudomonasme scripsit anno 2005
*HUGS* TOTAL!
give babysquid more *HUGS*
Get hugs of your own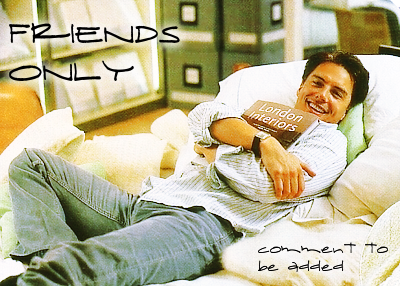 FO banner by
silkess
THIS JOURNAL IS FRIENDS ONLY!!!! COMMENT AND TELL MY WHY WE OUGHT TO BE FRIENDS IF YOU WANT TO BE ADDED.
ALSO, DEFRIENDING POLICY- FOR THE MOST PART, IF YOU DEFRIEND ME, I WILL DEFRIEND YOU FAIRLY QUICKLY. THIS IS NOTHING PERSONAL, BUT I DON'T THINK IT'S FAIR FOR YOU TO HAVE ACCESS TO ME, IF I DON'T HAVE ACCESS TO YOU. GOT IT?"Welp, from what little I know about ya...the obvious nice things I can say are that you're really sweet and thoughtful and generous and you care about your friends. And then....seeing as how I have only met you in person once so far, this is my take on ya, at first appearance you have this cute, shy exterior, but then get you talking and you're pretty fiesty and can *so* hold your own. You know how to have fun, and to make sure those around you are having fun too. :) I think you're pretty cool. And hey! Anyone that can pull off the 'baby squid' user name has to be cool. ;)"
from
dee25x5
do you want to have a comment posted here? drop me a line.
Avid photographer. some of it is even worth sharing. don't believe me? well, you should. lol.
Have traveled most of the US. Some europe. South America. Mexico. Have plenty more places I want to go, though.
I love to write, but rarely share it.
I love my friends. And miss the ones that are not nearby.
Love my family- even if it is confusing and a bit soap opera like.
Any questions feel free to ask.


love bars by
prophcygrl
layout created by
roniabirk
bow down before her awesomeness!!
but current design was done by me. for i am cool that way. LOL

Connect
abby/mcgee
,
adam busch
,
alan tudyk
,
american literature
, ancient civilations,
ancient egypt
,
angel the series
,
anthony stewart head
,
anthropology
,
archaeology
,
automatic hotel
,
bbc
, beth orten,
bohemia
,
books
,
brendan fehr
,
broadway
,
btvs
,
buffy
,
buffy the vampire slayer
,
callum keith rennie
,
canada
,
canadian films
,
captain hammer
,
captain jack harkness
,
captain john hart
, carole e. barrowman,
cats
,
charlie demars
,
chicago
,
christian kane
,
common rotation
,
counseling
,
country rock
,
criminology
, cussin' up a storm,
dane cook
,
daniel bedingfield
,
david krumholtz
,
david tennant
,
doctor who
,
dogs
,
dr horrible's sing-along blog
,
dr who
,
dr. horrible
,
dr. horrible's sing-along blog
,
due south
,
elizabethan england
,
eric kufs
,
faerie tales
,
fan fiction
,
fanfiction
, fantasizing about spike,
felicia day
,
firefly
,
forensic psychology
,
forensics
,
fresno
,
gareth david-lloyd
,
ghost of the robot
,
going barefoot
,
guns n' roses
,
gypsy
,
hard core logo
,
ianto jones
,
independent films
,
ireland
,
james marsters
,
jane austen
,
jason mraz
,
jewel staite
,
john barrowman
,
john mayer
,
joss whedon
,
kane
,
kelly donovan
, ken beck,
kevin smith
,
kittens
,
las vegas
,
laurell k. hamilton
,
los angeles
,
lucy woodward
,
majandra delfino
,
mcgee/abby
,
men
,
metallica
,
michael rosenbaum
,
michael t. weiss
, mike henry, mike uhler,
mls
, mocking acf,
movies
,
mummies
,
music
,
musicals
,
nasop
,
natalie portman
,
nathan fillion
,
ncis
,
neil gaiman
,
neil patrick harris
,
nicholas brendon
,
numb3rs
,
paul gross
,
pauley perrette
,
photography
, powder!,
psychology
,
reading
,
roswell
,
s/x
,
san jose earthquakes
,
sarah michelle gellar
,
sean maher
,
sean murray
,
serenity
,
sleeping
,
smallville
,
soccer
,
spander
,
spike
,
spike/xander
,
spuffy
,
steve carlson
,
strong women
, tg&ag,
the drills
,
the guild
,
the pretender
,
the steve carlson band
,
theatre
,
tom lenk
,
torchwood
, tower district,
trans-siberian orchestra
,
traveling
,
weather
,
writing
,
xander
,
xander/spike

People
[View Entries]

[livejournal.com]
authoress
,
authoressnebula
,
babysquid
,
blueirish
,
bonzoidsister
,
briel
,
carpedi7
,
crofan28
,
dee25x5
,
dermotpub
,
desdemonaspace
,
destro
,
dingoespain
,
hackergroupie
,
iamnight
,
jaxt39
,
jypzrose
,
kimberly-a
,
lil-coyote
,
mintaero
,
molleo
,
moonchylde
,
motherkus
,
naughty-fae
,
nautibitz
,
oanimation
,
quaint-shopgirl
,
reverendammit
,
roniabirk
,
seductivembrace
,
shesaspiral
,
southern-skyes
,
spikesdeb
,
taruma16
,
typsie
,
whenbuffysmiles
,
wyldcolt45

[users.livejournal.com]
-friendlyghost
,
_sharvie_

Communities
[View entries]

Feeds
[View Entries]

Subscriptions (0)

Linking
To link to this user, copy this code:
On Dreamwidth:
Elsewhere: